LG Electronics on Monday confirmed the launch of its latest large full HD flagship smartphone, the Optimus G Pro, will set and device will go for sale in the South Korean markets next week.
Taking benefits of launching in the home market, LG is set to lure more customers with hike in sale demands as offering one of the largest full HD, excellent performer phone.
Sporting twice HD screen of smartphones, the Optimus G Pro feature a 5.5-inch full HD display that packs over 2 million pixels with a resolution of 401 ppi.
It will be powered by a quad-core 1.7 GHz processor and 2 GB of RAM and running on Android 4.1.2 the latest version of Google OS, have 32 GB of internal storage as well as a microSD card slot.
The new largest screened Android-powered phone's specs has also to be large as the device comes with a larger 13 MP rear camera as well as a 2 MP front-facing one, offering full HD videos and photographs. It will also support wireless charging.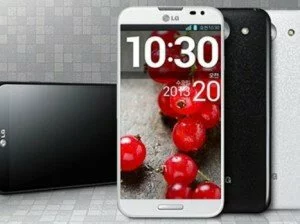 The Optimus G Pro is available at 968,000 won ($894) without in South Korea without a mobile carrier contract, as per media report.
Apart of LG, Sony, HTC and Samsung are major competitors which in race to launch Full HD smartphones in market this year, offering high-resolution screen key feature.