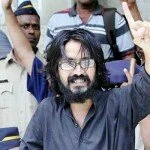 According to latest news, the Maharashtra govt has said in news that it has dropped sedition charges against cartoonist Aseem Trivedi.
Cartoonist Aseem Trivedi was arrested by Mumbai Police in September this year.
Reports have said that the Attorney General said in the Bombay High Court that the sedition charges against Aseem Trivedi were a 'knee-jerk reaction'. To this, the Attorney General said Maharasthra will draft a circular on Section 124 A and this will be presented to the Chief Justice for further sanctions and then it will be sent to the police station.
Meanwhile, the cartoonist Aseem Trivedi was arrested on September 8 under IPC Section 124 (sedition), Section 66 A of Information Technology Act and Section 2 of Prevention of Insults to Nation Honour Act. However, he was released on September 12 after granted bail by Bombay High Court.
Later, Aseem Trivedi recently said that he will keep on making cartoons that will raise issues such as corruption etc. he said his fight against corruption corruption will be on.
Cartoonist Aseem Trivedi is presently in the TV reality show 'Bigg Boss 6' shown on Colors TV. Aseem said, "I want to use the medium to drive the message of anti-corruption to every home."