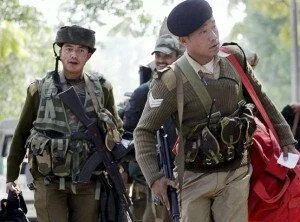 As per latest report, there is a huge gap between Congress and others ruling party ahead at 15 seats. And Congress took ahead as winner in Manipur counts its ballot
Congress candidate Chalonlien Amo who is contesting against his nearest Trinamool Congress rival L Fimate, has won the Tipaimukh assembly seat in Manipur defeating by over 1000 votes.
With having tight security, counting for the 60-member Manipur assembly started at 8 AM this morning in all nine district headquarters and at the offices of the additional deputy commissioners.
Election officer said there were 18 counting centres in the state where security personnel were deployed and prohibitory orders were imposed.
Interestingly, for all 60 seats, the Congress is contesting with an 11-party non-Congress Peoples Democratic Alliance as its rival.
During ending of initial round of counting Congress candidate KH Debendra is contesting against his rival CPI candidate A Oken Singh.
Debendra is leading in Sekmai assembly constituency and has one step ahead with 2600 votes against Oken Singh's 1588 votes.
Two high profile leaders of Congress were leading from Thoubal and Sugnu seats in Thoubal district – Chief Minister O Ibobi Singh by 120 votes against his rival O Indira of BJP and Works minister K Ranjit by 35 votes against M Binod of Manipur People's Party.
Congress victory in Manipur 60 seats seems to be fixed as Congress leader and Forest minister Th. Debendra is also leading (1516) against A Biren (1136) of Trinamool Congress in the Jiribam seat.
Moreover, final results are expected by afternoon. In all constituents, NPF who is contesting (12) was leading on 3 seats, while NCP is contesting 21, MPP 14, CPI 24, CPI(M) 2, JD(U) 5, NPP 12, NPF 12, Trinamool Congress 48, LJP 1, MSCP 31 and BJP 19.