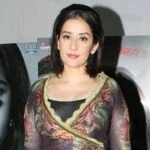 The Bollywood actress Manisha Koirala has been diagnosed with ovarian cancer and will undergo surgery in New York on Thursday, as told media by her manager.
Talking to media, Subroto Ghosh, Manisha's manager said, "Manisha will undergo a surgery today (Thursday) in New York for ovarian cancer."
Later last month, the actress was hospitalized in Mumbai and rumours about her cancer are now confirmed.
The official page on Facebook, the actress was shocked to know about her illness but hse is confident she will be well soon.
On her Facebook Page, Manisha Koirala wrote, "Dear friends, thank you for all your wishes. I am in good place and in good hands. With all your love and prayers I am sure I'll recover. It was shocking to know, but then life is full of surprises."
She further writes, "One must deal with it and move on with faith and dignity. Whatever is the outcome, it is for best. I know that. So people, don't worry! I have had a beautiful life so far and I know, whatever will happen will all be good. Thank you from the bottom of my heart for your prayers… love, M Koirala."
Manisha Koirala basically belongs to Nepal, has taken her illness very gracefully and said it is part and parcel of life.
She said, "I am writing this as a request – please no sadness, I have told my closest friends and family too. This is part of life."
She added, "I am fine and will be fine no matter the outcome. I am in gratitude with all the gifts I have received from this life – like your love and prayers. Let us celebrate life in all forms. Thank you again for your prayers"