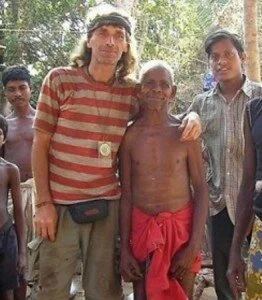 Hostage crisis in Odisha turned into an international issue, although release of Italian national tour operator Paolo Bosusco, after held in hostage of Maoists group for last 29 days, will be made today at any time, but before this govt. have to fulfill a new demand of Maoist.
Their demand is for bail of Aarti Majhi in a Gajapati district court. As the yesterday report, the Gajapati district court had reserved its ruling on her bail application and will deliver its verdict over case today.
From last two years, Aarti Majhi has been in Berhampur jail, under the charges of eight cases in series of violent incidents.
However she has many allegations, but a ganged rape case also attached with her as she alleged that while she was picked up from her village in Gajapati district, CRPF jawans assaulted her with gang rape.
In a source report, Maoist leader Sabyasachi Panda yesterday confined that a "democratic process" will have been followed on release of Mr Bosusco. He also said, the govt. had agreed to release the one Maoist member and as a proof he had a copy of the joint statement signed by it and the Maoist mediators.
But their one condition is that Majhi is to come out from jail before they actually release Italian abductor.
Despite all these, Panda's wife Subhasree Das, was released from jail after two years accused for involvement in an encounter in 2003, called publicly wrong to take a foreign national hostage.
Showing the willingness to become a mediator in hostage crisis said, "It is not right to keep anyone hostage for fulfillment of certain demands." She added, "I am ready and can bear any pain for the release of the Italian national Paolo Basusco."