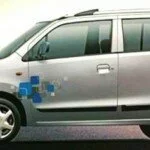 As Indian auto market segment is going at its peak level, all the auto manufacturers one by one open their accounts by launching high powered autos at affordable price.
Following this tactics, Maruti Suzuki India introduced its latest next generation, new version of having limited edition 'WagonR Pro', the most popular small hatchback version, targeting customer preferring small car segment.
Wagon R Pro is a petrol variant is expected to offer a well stylish body graphics, double din music system with speakers and USB, Bluetooth. The vehicle will also support stylish seat covers, new fancy wheel covers and side molding, rear spoiler, bumper protectors, rear body rub rails and also at front end. All these features will be installed by Maruti dealerships across India.
As part of the price of this newest version of WagonR Pro, reports said that the company will land its vehicle in the market at a price of Rs.4.45 lakh, more than Rs. 20,000 in compare to its already available WagonR model.
In addition, reports further said, there will be a special exchange scheme for Wagon R Indian customers with an additional discount of Rs.30,000 which is offering to them for available Wagon R in the country.