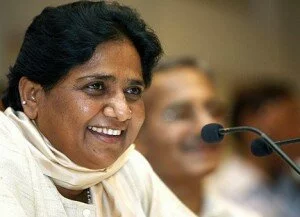 The powerful lady from Uttar Pradesh Chief Minister Mayawati is celebrating her 56th birthday today.
She turns to 56 and will celebrate her 56th birthday with party's workers and office bearers. The party will be held at the party office in Lucknow today.
But something is missing in the party as like last year in 2011, Mayawati announced 600 new projects on her last year birthday and the issues over the expenses incurred on celebration , active participation of bureaucrats and denoting the day as 'arthik sahyog diwas" were bring fire on.
However in 2012 there is nothing seems to be happened as past. But at this time party affair will be the issue.
All the activities scheduled by BSP party and expenditure incurred will be under a close watch of the District Magistrate of Lucknow that ordered to do same by the Election Commission. All the information keeps on checking by the EC because it is expected that on this function happening of some type of unpredictable activities like distribution of gifts and bribe voters are going ahead.
This may put the celebrations of Mayawati's birthday on low key issues. Unlike past there will not be any chances of new project by the government because the model code of conduct is in place. The state BSP president Swami Prasad Maurya said, "Behenji's birthday celebration is being hosted by the party and it is certainly not a violation of the election model code of conduct."
As per source report, on her birthday Mayawati will address party workers and force them to go in villages for taking people in their confident that ensure the party's success.
There will be chances of unveiling the list of party candidates as nominees of upcoming elections, along this she will also release her new seventh volume of her biography.
However after one day of her birthday, it is expected that Mayawati will turns to begin her lection rally from Uttaranchal on January 16 that is of 55 constituencies for polls in the first phase on February 8 and later she turns to Punjab.