Beijing Olympic boxing bronze medallist Vijender Singh, was being questioned by Punjab Police on Monday for his role in the recent drug scandal of 26 kg of heroin worth Rs. 130 crore.
Atleast four hours, Vijender was quizzed by a DSP and Inspector of Punjab Police in the drug haul case at the Haryana Police Lines at Panchkula, police said, refused to give his blood and hair samples for forensic testing.
However, Boxer has stated no reason for his refusal to give blood, hair samples.
During questioning, Police asked him about the recovery of his wife's car from near the house of the arrested drug smuggler and NRI Anoop Singh Kahlon, Mohali, sources said.
They also asked about statement of Ram Singh, his follower and national level championship, was expelled from the NIS, Patiala.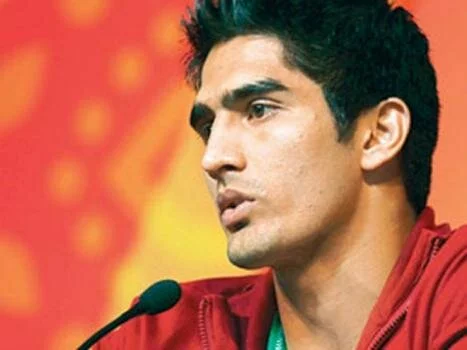 Vijender's grilling action came after Ram Singh made conflicting statement that he and Vijender had met the drug peddler several times and experimented with drugs as "food supplement", but Vijender has denied the allegations.
Meanwhile, no clean chit has given to Vijender by Punjab police at this time as the questioning process with him will be opened. And if he found guilty, strict action would be taken against him.
Vijender was separately questioned in the office of Hardeep Singh Doon, IPS, SSP Crime & Telecommunication, Haryana in the presence of two private witnesses. While Ram Singh and seven others arrested are being questioned at Fatehgarh Sahab, sources said.