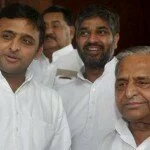 After the assembly polls, now all allies party members are seeking to test their fate in Presidential polls and in the list of nominees, Samajwadi Party and Trinamool Congress are on top race.
As per source, SP general secretary and West Bengal-based MP, Kiranmoy Nanda met Trinamool Congress chief Mamata Banerjee at Writers' Building in Kolkata during a meeting of talk over action plan to field a candidate for the presidential polls.
It has been said that, a bilateral agreement between SP and Trinamool have to be discussed for a common stand on the presidential election. They would decide to plan tactics on selection of a nominee before committing their support to UPA.
"We discussed issues relating to the national political situation and the discussion was positive. I briefed Mulayam Singh Yadav about the discussion held with Mamata Banerjee," Nanda, the Left Front government said while talking to media about future strategic plan of party.
Congress that was badly defeated in assembly polls seems to have no support from side of Trinamool, a UPA coalition partner, and SP.
Bad thing was that for Congress, Mamata Banerjee to whom Congress had requested to wait high command's shortlisted presidential nominees before taking any action over standing with allied parties had refused Congress suggestion.