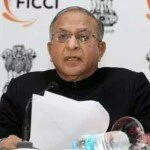 Amid an uproar over Opposition demand to roll back the petrol price, the government clearly said "No" even for now days. It said that the decision to roll back on increased process will be discussed after reviewing the situation for a few days.
Questioning from Oil Minister S Jaipal Reddy about the concerns of the common-man, he told reporters, "The government cannot remain indifferent to the people's feelings," the decision to hike petrol price was taken by the oil companies, but the government is conscious of the "sense of disturbance" among people.
"We will watch the situation for a few days", he adding that there was no need for rollback of hike petrol prices.
He further added in his saying to media, "Petrol is deregulated but during certain period oil marketing companies were not able to raise prices of petrol."
Earlier Wednesday midnight, state owned oil firms hiked of Rs 7.50 a litre in petrol price, that strongly opposed by Opposition allies, even national wide strike also announced by NDA on 31 May.
Along with Opposition, the ruling UPA Congress Government has also in support to roll back the hike price.
Asking about market position, the minister informed source that the oil marketing companies are in position to deal with the double trend of increase oil prices along with current falling trend that is not stable.
For discussing the issue deeply and in wake to resolve, Empowered Group of Ministers has decided to meet and discuss on diesel, LPG and kerosene prices.