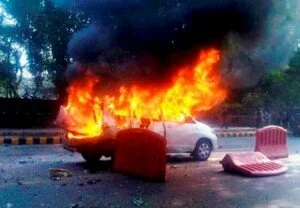 The first round investigation into the Israel Embassy car blast in New Delhi on yesterday has announced that there is no use of RDX in the attack.
Meanwhile, it is said in reports that the damage to the car was mainly due to the fire and not because of the explosion.
Sources said that high quality sulphur-based compound was used in the car blast.
While talking to media, an official from the investigating agency said, "The bomb was as big as a human palm or slightly bigger than that and a highly trained person on a motorcycle was used to plant it."
According to them, the bomb had a self triggering device that worked and that do not need a remote control.
Furthermore, the bomb was attached to the Innova car yesterday on the Israel embassy with the help of a magnet and exploded a few second after it was planted.
The Central Forensic Sciences Laboratory (CFSL) is now monitoring the matter as well as collecting the samples gathers from the car and the final report is expected to come out by Tuesday evening.
So far, the investigating agencies are clueless about the nationality of the attacker or the identity of the group who took the extreme step.
Investigators are on the lookout for a red coloured motorcycle, which may have been possibly stolen to carry out the attack.