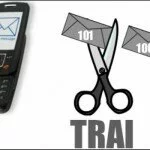 Being forced to take step to resolve the menace of pesky spam messages, Telecom Regulatory Authority of India (TRAI) has restricted a limit of 100 SMS in a day per SIM which will be at concessional rates.
Without affecting the ordinary phone users, TRAI ensured to set limit much beyond average person daily requirement which will help to stop unregistered telemarketers to send spam messages to users.
Under TRAI's revised rule, now for every SMS sent beyond the cap of 100 SMSes, a minimum charge of 50 paisa will be applicable as a move against those telemarketers who are misusing the cheap SMSes packages offered by telecom regulator .
As per TRAI's principal advisor, N Parameswaran, this move came after regulator has received several complaints from subscribers about receiving pesky messages from unregistered telemarketers.
However, this cap will not apply on registered telemarketers, transactional message-sending entities, and telephone numbers, he added.
It has been also said that TRAI is asking telecom operators to use a new mechanism to block messages with same or similar characters, marking that not more than 200 SMSes with "similar signatures" are sent in an hour.