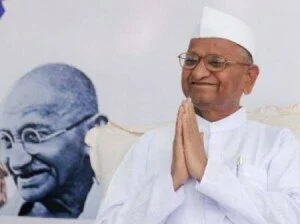 As per Media news report, today Anna Hazare and his initiatives are the heroes of NRI.
The people of Indian origin (PIO), attending the Pravasi Bharitya Divas 2012, has given a great response to Anna Team for the strong Lokpal.
While the government is never missing any step to attract NRI investments, but its reverse the Indians residing abroad expressed their huge support only for the social activist.
Considering the union government over the issue of corruption, Anna is the hero for NRIs who has emerged as the voice of the common Indian.
NRIs , referred to the impeachment of the US president Bill Clinton, preferred a strong Lokpal bill that is capable of getting rid of corruption at all levels including public and private sectors.
The chairman, Asian American Hotel Owners Association revealed in a statement, "Even US president Bill Clinton had to face impeachment; then why is the Indian government afraid of including the prime minister and senior administrative officers under ambit of Lokpal. They are not above law."
"Bring the change and we guarantee you to bring the NRIs to India," he added. The change should be like the one witnessed in Libya and in Egypt.
The most interesting thing is that NRIs are seeking corrupt bureaucracy is a major hindrance in partnering with the government working on an inclusive growth approach.
Expressing his gratitude to Anna, Munish Gupta of Global Organisation of People of Indian Origin said, "At least Anna took the Initiative. People were on streets as they have no other option."
Talking to Media over bottlenecks in the system, Shashi Tharur who chaired the second plenary session on "Business partnering for prosperity" said, "Not all people are corrupt; there are constitutional agencies that are here to help the people."
Hoping to be an effective system, he stated in his statement, "There are issues of governance; companies are unable to get electric connections in time; there are administrative delays, but there is still a ray of hope."
Moreover he failed to support the delegates who face troubles at time of doing business with India.
"Whatever the schemes, at the end we have to face the IAS and IPS officers in states and we are on their mercy. I know several NRIs who have come forward for community service, but today they are facing more than 70 cases against them. We all have to depend on the mercy of bureaucracy," Manoj Bagga of Germany defined critical situation that they faced.
Finally all agree that Anna is the one in this country who has raised his voice against corruption and all the nation and people of Indian origin that living across the world are with him at this time.