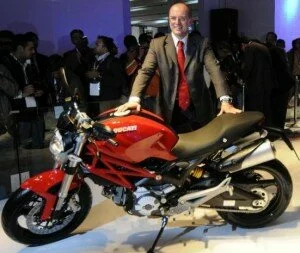 According to the latest news from the Auto Expo 2012, Ducati has announced a statement that almost surprised everyone.
The company had announced the grand launch of the Monster 795 at the Auto Expo for a price of Rs 6.99 lakh.
Moreover, the expected cost of the superb sports bike from the Ducati Monster 795 was in the range of Rs 5-6 lakh.
On the other hand, Ducati India has been speedy to make compensation and declares the special launch of their new bike for the Monster 795 – Rs 5.99 lakh, ex-showroom.
In the meantime, the company had announced the launch of this bike at such a low cost for a limited period of time which will make it more affordable.
While talking to media about the price of Monster 795, Ducati India CEO Ashish Chordia said, "It was our endeavour to price this model attractively and we have succeeded in passing on the benefits of the Thailand FTA to our customers."
He said, "In just two days since its launch, the Ducati Monster 795 has received an overwhelming response and with this new price the demand is expected to grow exponentially."