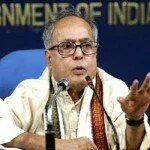 The finance minister of India, Pranab Mukherjee has indicated the petrol price may fall further in the coming period of time as the crude oil prices fall in the international market.
Earlier, the UPA government and Oil companies has announced a hike of Rs 7.54 per liter in petrol price in the country on 24 May.
This was the highest growth in the petrol in recent past, however, the central government cut petrol prices by Rs 2.02 per liter last week.
Meanwhile, Pranab Mukherjee, on his arrival in Kolkata Friday night, said, "The central government would discuss the Pension Fund Regulatory and Development Authority Bill with the Trinamool Congress and its president Mamata Banerjee."
The finance minister said, "They have written to us wanting further discussion. So, let us discuss."
Earlier, Trinamool general secretary and railway minister Mukul Roy had written to the Prime Minister Manmohan Singh and Finance Minister Pranab Mukherjee looking for talks on the bill.
This prompted the cabinet to defer the legislation.