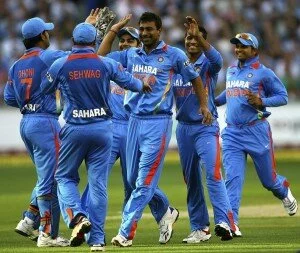 The biggest breaking news of the morning is that Sahara India has announced to withdrawn their sponsorship from Indian cricket team as well as their ownership from IPL franchise Pune Warriors.
Reports have said that this happened after the Sahara denied replacement for Yuvraj Singh for the upcoming IPL season five matches.
The press release issued by Sahara states that they are withdrawing from all cricket under BCCI. Meanwhile, the Sahara India earlier urged BCCI to pass on Pune Warriors team to some other interested party immediately.
In the meantime, the real deal of Sahara India with BCCI ends in 2010 after the company invested around Rs 400 crore on team India in four-years of period.
Sahara India pays around Rs 3.34 crore for every ODI to have their logo displayed on the Indian cricket team's jersey. The company further announces that it will now incest the money in other 20 sports. The company also asked BCCI to refund extra bid money from IPL season 4.
The press release of Sahara India writes, "Now after an 11-year journey as sponsors, we can say with surety that cricket has become very rich. Many rich people are there to support cricket with a strong will to do so. So, with absolute peace of mind we can exit from cricket under BCCI and are now exiting with a heavy heart."
It said, "It was an emotional decision for us to start this sponsorship but our emotions were never appreciated and many genuine situations, were not given due consideration at all."
"Last year, Sahara entered the IPL on the basis of information in the media and everywhere else that 94 matches will be played among 10 teams. The bid price was accordingly calculated, but only 74 matches were played. We are still pursuing continuously with the BCCI to refund the extra bid money proportionately. It has been denied on the basis of strict rules."