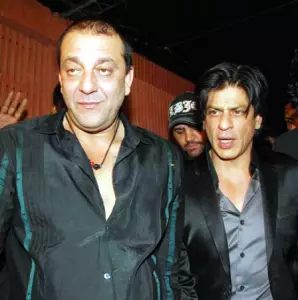 In the shocking news from the Bollywood, the king khan Shahrukh Khan allegedly punched and even slapped filmmaker and choreographer Farah Khan's director husband Shirish Kunder at a private party thrown by Sanjay Dutt.
Meanwhile, the quarrel took place on Sunday night at the success party organized by actor Sanjay Dutt, after the huge success to his film 'Agneepath'. The party was at a nightclub where Shahrukh Khan said to misbehave with Kunder, who has been taking potshots at the actor Shahrukh Khan and his huge film Ra.One that failed to make its mark on Bollywood.
Thereafter, the filmmaker Kunder left the party with a swollen face, and king khan and Sanjay Dutt also left the party with the owner of the nightclub.
However, on Monday night, Shahrukh Khan posted on his Twiiter wall, "Another long nite. Shooting for a public service msg film about education peace & harmony. Feels ironic when I read & see wot is being said."
On the other hand, Director Farah Khan and her husband talked to media about the incident, though they denied taking the matter to police.
Talking to media, Farah Khan said, "Shah Rukh has always told me that physical abuse is the worst way to sort out a problem, and that it means the person who's hitting has either a personal or professional crisis going on. So it saddens me to see him doing the same."