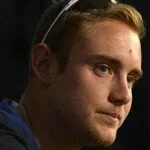 As per fresh cricket news, England's Twenty20 captain Stuart Broad has been ruled out of the upcoming Twenty20 matches against India. He was ruled out due to bruised left heel.
It is said in reports that Broad will soon fly back to England and take rest. James Harris is included into England team to replace Broad. James Harris is currently in Pune with the England Performance Programme.
However, it is said that the 22-years-old Eoin Morgan will lead the England cricket team in the absence of Broad. England will play their first Twenty20 match against India in Pune on December 20.
The second Twenty20 match will be played in Mumbai on December 22. Fast bowler Steven Finn will also fly back to England after he reported a strained disc in his lower back that ruled him out of the final Test here earlier on Wednesday.
However, Finn will play in the ODIs against India starting from January next year.