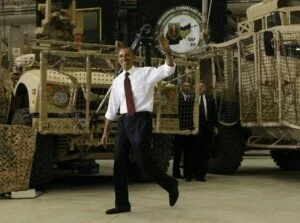 Three continuous blasts went off in the east of Kabul on Wednesday morning, killing six people followed by sporadic shooting.
One blast was of a car bomb, driven by a suicide bomber, exploded near Jalalabad road, killed four people inside a civilian car, a passerby, and a security guard of a nearby building, Interior ministry spokesman Sediq Sediqi told reporters.
As per Pakistan police, three blasts were heard near a "camp for foreigners" in the east of Kabul.
Taking over all responsibility for explosions, Taliban spokesman Zabiullah Mujahid said, "Today a devoted mujahid carried out a suicide car bomb attack on a foreign military base in Kabul, followed by other devoted mujahids (holy warriors) entering the base."
The blasts, including a suicide car bomb targeting foreign guesthouses, went off after U.S. President Barack Obama left the city by ending his unannounced visit to Afghanistan on Tuesday, marked the first anniversary of Osama bin Laden's death.
During his visit, Obama met with Afghan President Hamid Karzai, signing the Strategic Partnership Agreement over 10 years of US aid for Afghanistan after NATO combat troops leave in 2014.
Obama said, "We have begun to transition to Afghan responsibility for security and our coalition will set a goal for Afghan forces to be in the lead for combat operations across the country next year in the NATO summit in Chicago."
He also conceded that West main motive is to break the Taliban's momentum that by their attacks killed nearly 3,000 innocent men, women and children and allied troops, maimed tens of thousands more, saw thousands of Afghans killed and cost hundreds of billions of dollars.
"Neither Americans nor the Afghan people asked for this war, yet for a decade we've stood together," Obama said at the signing ceremony. To accomplish two narrow security missions: counter-terrorism and continued training the Afghans, also Taliban and fight alongside them when needed, he said in return they break with al-Qaeda, renounce violence and abide by Afghan laws.
Asking about Obama saying, Karzai said the US pact "is not threatening any third country, including the neighbouring countries, but we are hoping that this leads to stability, prosperity and development in the region".