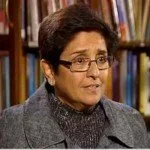 Talking with media at Hyderabad, Team Anna member Kiran Bedi said that Team Anna will may support Arvind Kejriwal's political party in the upcoming elections.
Kirab Bedi was talking to media on the sidelines of the Indian School of Business (ISB) Leadership Summit-2013. She said, "We will support any honesty. Since he (Kejriwal) stands for promoting integrity, obviously he will be eligible for our support."
Further, Kiran Bedi said that Team Anna has not difference with Kejriwal and said that Kejriwal has chosen the electoral way to fight with corruption in the country.
She said, "There are no differences with Kejriwal. He wanted take the electoral route and we wanted to take the non-electoral route. It is his feeling that it is time to take the electoral route."
Speaking on the role of Prime Minister on the Jan Lokpal Bill, she said, "We are waiting for the select committee recommendations. I think the most important part of the recommendations will be how independent is the CBI, how independent will be the director selected and whether he or she can be reemployed or not, besides does he report to the Lokpal or not."