Thrashing UPA's efforts to make Productive Parliament's Budget Session, Hyderabad Twin Blasts rocked both Houses of Parliament on Friday, following Opposition allegations over government's loose control in matters of internal security.
As soon as at 12 noon, House of Parliament, Lok Sabha resumed, Leader of Opposition Sushma Swaraj accused govt for intelligence failure to prevent the Hyderabad blasts in which 16 dead and more than 100 injured.
The government claimed to have the information about Blasts in the country, terror alerts received from Indian Muhajudin and Lashkar, and Intelligence agencies had issued advisories.
Questioning to the Center for failure, Sushma said that Home Minister Sushil Kumar Shinde was saying that he gave the information, but "If there was information, what was the Centre, the state doing?".
On day 2 of Parliament's Budget Session, the upper house, Rajya Sabha, was adjourned till noon, with demand of SP, BSP, TDP and JU(U) members for an immediate statement over the same Blasts issue.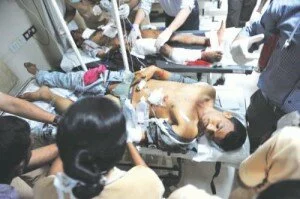 Throwing the copies of newspapers of Hyderabad Blasts, BJP members' uproar rocked the Lok Sabha with slogans against Center. While DMK raised the Sri Lanka war crimes issue over LTTE chief V Prabhakaran's 12-year-old son who was allegedly shot dead by Sri Lankan forces.
Reports are that Home Minister, who is in Hyderabad, is expected to make a statement over Twin Blasts in the Lok Sabha at 2:00 pm.