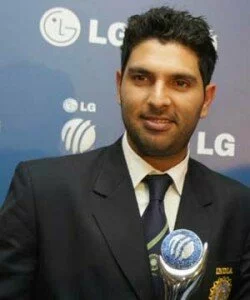 As per the latest sports news, India's World Cup hero Yuvraj Singh, who is slowly recovering from an non-malignant tumour in his lung, has recently said in a press release he was expecting to be fit for the ODI tri-series in Australia in February 2012.
While talking to media during the promotional event, Yuvraj said, "I'm getting ready to play again. I am targeting the ODI series in Australia."
The super middle order batsman has a "non-malignant tumour" in his left lung and was left out of ODI series against the West Indies. Yuvraj Singh was also not includes by the selectors for the Test team playing in Australia due to his ill health.
Further talking to media, he said, "It was a very difficult time. It was a crucial period for me and my family when I learnt about the tumour. My mother supported me a lot during my recovery."
He told media, "I didn't reveal about the diagnosis earlier as I did not want any extra attention from the media and the people."
In the meantime, India will play 4 Tests, 2 Twenty20 Internationals and an ODI tri-series, Sri Lanka is the third team, during its tour Down Under beginning December 26 at Melbourne with the Boxing Day Test.
Yuvraj Singh also added a congratulate note for his teammate Virender Sehwag, who made the highest ever individual score in ODI by hitting 219 runs and became only the second player after Sachin Tendulkar to score a double hundred, in the fourth ODI against the West Indies at Indore on Thursday.
Yuvraj Singh said, "I've never seen Viv Richards bat but I've seen Sehwag. It is one of the best innings I have ever seen. It is highly unlikely that any batsman will ever go past it."