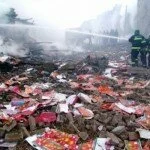 According to latest reports, around 20 people killed and 60 others injured in a major fire incident at a fire-cracker factory in Mudalipetti near Sivakasi in Tamil Nadu.
It is said that the toll could be more. Reports said that there were 300 people present in the factory at the time of fire broke out. The name of the factory is Om Siva Sakthi Crackers.
Police has no information that how many people managed to escape from the factory.
The factor has 60 rooms and all the rooms were gutted in fire. 20 rooms were used as store room to store chemicals. Later, the fire broke out to godowns which si 200 feet away.
However, seriously injured people were soon rushed to a government hospital in Madurai, while others are in a hospital in Sivakasi.
Around 10 fire brigades were rushed to the spot, explosions have been heard and heavy smoke was coming out of the factory building.
It is also said that there are many children trapped in the factory , who worked in the factor as child labor.
Meanwhile, Sivakasi is the country's biggest center known in the country for the manufacturing of matches and fire crackers. Work to accomplish the demand for Diwali festival was on full swing.