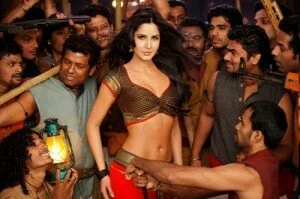 Mumbai Mirror had a slip glance at the much talked about song Chikni Chameli in Karan Johar's Agneepath.
It is reported that the song, which has been pasteurized on hot and charming Bollywood actress Katrina Kaif, marks her debut in Dharma Productions.
On the very first look of the new song, and we could not help but note the outstanding similarities with Helen's typical superhit item number 'Mungda' which too has been shot in a like atmosphere.
In addition to this, some more comes for fans, that is, actress Katrina Kaif, who looks ravishing to say the least, has three costume changes in the song.