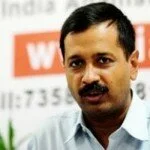 On Wednesday, November 21, 2012, the day when Pakistani national and LeT terrorist Ajmal Kasab hanged to death at Pune's Yerwada jail. And, on November 22, 2012, social activist and politician Arvind Kejriwal has announced to expose the central government's apathy towards 26/11 heroes.
It is said in reports that Arvind Kejriwal will be taking up the cause of National Security Guard (NSG) commandos who fought the terrorists during 26/11 attack.
Arvind Kejriwal will address a press conference at 1pm today.
Earlier, he said that NSG commandos who played vital role in the operation of fight against terrorists on 26/11.
Kejriwal tweets, "Ajmal Kasab hanged yesterday. But wat abt those NSG commandos who fought that nite and saved India? They r leading a pitiable life. Some of them thrown out of job wid no pensions, they r footing their own medical bills, no honors for them. One of them dares to speak up. Meet him at 1 pm in a press conf. He wud narrate the story of others too (sic)"
He said that he will expose the government in a press conference today at 1 pm.