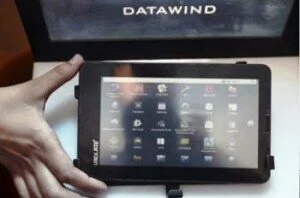 The India govt. is set the price of an updated version of Aakash 2 tablet at Rs.1500 that is an affordable price for each student and now its impacts is putting Nepal.
The world's most affordable tablet computer, mainly at students, is highly demanded from all sections in Nepal. "We have got an order for 1000 units from a restaurant chain. And besides students, professionals and businessmen, many inquiries have come from rural areas and other regions for dealerships," said Vivek Khetan of Gizmos Nepal, the sole distributors for Nepal.
Aakash tablet is manufactured by Datawind Company and has come in October last year. Due to having some problems of manufacturing, tablets demand had reduced, but now after promoting its improved version Aakash 2 in December last year, tablet had recorded 1.4 million bookings in just two weeks.
The country's biggest technology exhibition CAN Info-Tech 2012 will be ended on Tuesday, but thousands of visitors being impressed are reaching stall B22 at exhibition to take a look of device.
The Ubislate 7+, the commercial version of the world's cheapest tablet Aakash which is set to be launched in India next month, will be available in Nepal with cost Rs 750 more as its price will be at NRs 6,000 (Rs 3,750) while Ubislate 7+ is priced at Rs 2999 through educational institutions.
But with features of a better processor, a bigger battery, a newer version of Android, GPRS, Wi-Fi, HD video and over 1,50,000 applications, Ubislate 7+ is highly demanded by the people mostly students and professionals and already more than 20,000 people has make order for booking it during the exhibition.
Meanwhile seeing the huge response from buyers on bookings at the exhibition and double fissure on order through online, Nepal has a purchase order of around 10,000 units and expected that more order will be taken in the next coming days.