Afzal Guru's hanging becomes the top political controversial issue as after J&K CM Omar Abdullah, now the BJP raised its voice against Congress, asked to make stand over Abdullah's interview showing a "sympathetic chord" for Guru.
Media reports said that BJP leader M Venkaiah Naidu on Monday charged Abdullah for slamming Indian government on secret execution of 2001 Parliament attack convict, "provoking" Kashmir youth against it by saying that Guru's hanging was a tragedy, a sense of alienation and injustice among  Valley's generation.
Naidu called Abdullah's statements are very objectionable, and not in the national interest.
"People should keep the national interest in mind, security of the country and unity of the country should be paramount for everybody. And people who lost their lives during the heinous stack on Parliament, what about their age? What about their families? And then what would have happened if at all those people would have entered inside the Parliament," Naidu said, sources said.
As like Naidu, BJP spokesperson Prakash Javadekar also criticized Abdullah of being "part and parcel" of the UPA.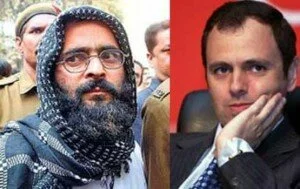 "We condemn his statement and we want to ask Congress whether they agree with what Omar Abdullah has said because they are part of parcel of UPA and they are supporting it. So, Congress owes responsibility to respond to what Omar Abdullah is saying," Javadekar told reporters.
In an interview, Abdullah who had slammed Guru's execution repeatedly said that Guru's execution could have severe repercussions in Kashmir and India would have to answer several questions that rose after Guru's hanging.
He said that Guru's hanging without a final farewell with his family was a tragedy, and urged people to keep the issue far way politics and maintain peace in the state.
Parliament attack convict was hanged and buried at Delhi's Tihar jail complex in a top secret operation yesterday, 10 December 2013 after President Pranab Mukherjee rejected Guru's mercy plea.