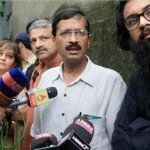 According to latest news, the member of Team Anna and India Against Corruption, Arvind Kejriwal has warned to launch a stir on Friday if the Mumbai police does not drop the sedition charge against cartoonist Aseem Trivedi.
Yesterday, social activist Arvind Kejriwal meets Aseem Trivedi in Arthur Road jail in Mumbai.
Talking to media, Kejriwal said, "I appreciate his courage. He has been fighting corruption for a year. He has fought for Lokpal."
Kejriwal also praised the cartoonist Aseem Trivedi for refusing to leave the jail until the sedition charges were not removed against him.
Further, Kejriwal said, "The country will not tolerate this."
Another IAC member said, "Trivedi will furnish a personal bond of Rs 5,000, as asked by the high court, on Wednesday and leave the jail."
When asked by media that Aseem Trivedi had insulted the national emblem, Arvind Kejriwal said, "MPs who disrespect the national emblem… official papers have national emblems printed on them… they commit corruption and should be booked for sedition."
Kejriwal said that the national emblem was insulted by those who loot crores of rupees in scams.