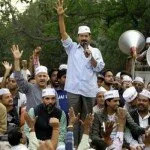 The social activist-turned-politician and the National Convener of the Aam Aadmi Party [AAP], Arvind Kejriwal has announced that he will expose more revelations on Tuesday evening at 5 pm.
However, there is no information given to media that who will be the next target or the nature of the revelation.
Earlier, Arvind Kejriwal has targeted Congress Chief Sonia Gandhi's son-in-law Robert Vadra, BJP President Nitin Gadkari and business icon Mukesh Ambani.
In he latest set of allegations, Arvind Kejriwal told media that NSG Commandos who played vital role in the 26/11 Mumbai terror attack were leading a pitiable life. He said that some of the NSG commandos were sacked without pensions and other medial helps.
As a move to expose central government's support towards 26/11 heroes, Kejriwal presented a NSG commando, who fought terrorists during the Mumbai terror attacks, saying the soldiers are still fighting for their rights.
Talking to media, Former NSG commando Surendra Singh said, "I became unfit after 26/11 but the government is not bearing the cost of my medical expenses. I even tried taking help through RTI. I was told that NSG will not reply to RTI as it does not come under RTI. I wanted to know the criteria and eligibility of NSG commandos in my RTI. I wanted to know about foreign donations that were sent to help us. My request was rejected."
Further, Arvind Kejriwal said, "Pakistani terrorists attacked Mumbai on 26/11/2008. Kasab was hanged on Wednesday but those NSG commandos who fought these terrorists are still fighting for their rights. Out of the 11, 2 people were kicked out of the job. These two became disabled because of the Mumbai attack."