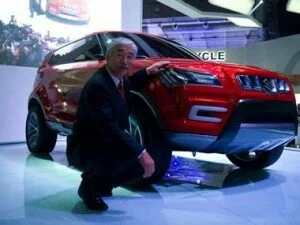 According to the latest report, the 11th Auto Expo has been started in the national capital from today and the country's biggest car company Maruti Suzuki has come up with its new compact SUV XA Alpha as the car-manufacturer targets new market in India.
Moreover, at the launch of new compact car, Maruti Suzuki Managing Director and CEO Shinzo Nakanishi said, "India is on course to become one of the top automobile economies of the world, powered by the middle class and continued government support. Customers will become more and more sophisticated."
Further talking to media, Mr. Nakanishi said, "The choice of automobile will be dictated more and more by the way of life of customers. We will launch new products and create new categories to their choice."
As per his statement, the car company plans to increase the range of its K-series engine, along with diesel cars.
It is said to media that around 5 Maruti engineers were involved in the project to establish the new concept vehicle and was completed their job in just 10 months.
The CEO of the company said, "The SUV segment accounts for 14 per cent of the total automobile market in India and since the company does not have presence in the segment, it needs one to retain its leadership position."
While answering to a question on Indian Market, he said, "The slowdown is short-term and temporary and Maruti network and capacity are designed for long term."
In addition, the 11th Auto Expo will witness around 50 international brands showing their products. The Auto Expo 2012 will be open for public from January 7 to 11 this year; the organizers have decided that only one lakh can visit the expo per day including 30,000 people from the exhibitors' side.