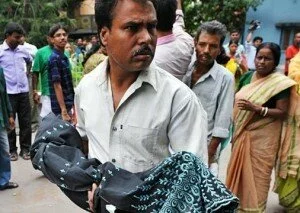 The doctors of Malda, West Bengal where newly tremendous incident of death of 15 babies has happened within 48 hours, has been defended by Chief Minister Mamata Banerjee by saying that all has because of poor infrastructure of Government hospital left by previous govt.
As per average death rate record, 40,000 infants every year in West Bengal has died and death of 15 more infants would raise the hurdles of the Malda Medical College Hospital that is already accused under the act of negligence that resulted in death of 26 infants on last November within six days.
But as per Malda hospital authorities, 4 babies out of seven that were died had brought in a very critical condition and two amongst them were brought dead, and they denied of having any negligence from them.
Being supported the hospital authorities and neglected the doctor's ignorance over patients' health, she called it the cause of Left front Govt., ruling from 34 years since 1977 never put proper attention on medical infrastructure of state. She claimed, "Infant mortality needs to be looked at very seriously. It is sad that seven children have died in Malda…… There has been canard when we are trying to improve the health infrastructure, which has been left in shambles by the previous government."
While the team of task force of Health Department went to the Hospital and took the whole incident under its investigation, they concluded that the hospital needs more doctors and staff along with expansion of The Sick Newborn Care Unit (SNCU) require.
They also said that they were shocked to see absenteeism of senior staff even the superintendent and vice principal of the college were out of station for some official work, so there were no one who gave answer to their questions.
Moreover criticizing the poor medical health condition of West Bengal that remarks the Left Front Govt. negligence, Mamata Banerjee promised to take strict actions against the hospital authorities if they found with guilty of negligence along with steps that will follow to slow down the infant morality rate up to 25 percent.