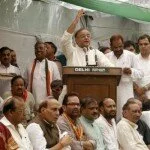 One day National wide "Jail Bharo" andolan has been launched by BJP on Friday against the government for being responsible of rising inflation and the hike in prices commodities and petrol products.
All the BJP party leader across the country, except Mahrashtra due to fire broke Mantralaya yesterday, has supported that "Jail Bharo" agitation including Party president Nitin Gadkari at Nagpur, Sushma Swaraj in Bhopal, Arun Jaitley, Rajnath Singh and Mukhtar Abbas Naqvi in Delhi.
However, more than hundreds of BJP cadres along with Rajnath Singh and senior BJP leader Mukhtar Abbas Naqvi courted arrest.
Main motive behind this protest is to accuse the Government of adopting "several tricks" including "misuse" of CBI to maintain majority and secure the support of political parties in the Parliament and during elections, source reported.
"Public is not with the government. They are not able to manage things and governance is zero under UPA, just adopt several tricks to mislead other political parties to get their work done in Parliament and other elections," leader Rajya Sabha Arun Jaitley told gathering while announcing Government's failure among common men.
Addressing the protest rally, his speech was just putting allegation over the government. As per media information, he accused Center for recent hike petrol price and price of essential commodities and doing nothing for downing it unlike in the global market where rate of crude oil come down from $127 to $90. He demanded to reduce the levied tax on petrol and other products so that price of petrol may come down to Rs50 a litre.
There is over all allegations for UPA govt. of using CBI as a "tool to maintain majority" and hiding itself from tag of corrupt. Showing wrong record with honesty, UPA is continuously increasing corruption, filling its pockets only by grabbing from common man. There is no reduction in inflation, only corruption.
Reviewing the one of the most controversial Bofors scam worth Rs64 crore corruption case under which Rajiv Gandhi had ruled out, Jaitley claimed UPA of be the " most corrupt government".
Reports said, Rajnath Singh in support of rally insulted Prime Minister Manmohan Singh of not able to do well with his post. Comparing with Former Prime Minister AB Vajpayee, he said, "Peope call Manmohan Singh a distinguished economist. But he is not able to manage the economy", despote Vajpayee managed the economy well.