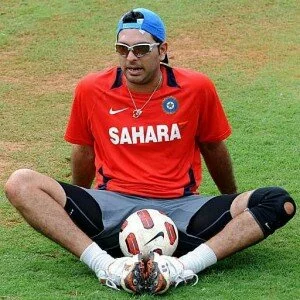 As soon as the news cam into light that cricketer Yuvraj Singh diagnosed with cancer, everyone in the world is praying for the speedy recovery of the player.
The dashing middle-order batsman from the Indian cricket team was first diagnosed with a non-malignant tumour of the lungs in 2011, while tests showed that it was cancer. Yuvraj Singh is now undergoing chemotherapy in the USA.
The cricketer posted on his Twiiter wall on January 27, "Reading Lance Armstrong's book, it's not about the bike! I'm sure it will motivate me and pull me through this time! Livestrong Yuvstrong."
Meanwhile, Lance Armstrong is a cyclist who bagged the award of multiple Tour de France titles after being treated for testicular cancer.
Even the Bollywood is alson wishing speedy recovery to Yuvraj, Amitabh Bachchan posted on Twitter, "Shocked to learn of Yuvraj Singh down with cancer..Yuvraj if you read this, know that we all pray for you.. All shall and will be well."
The actor further writes, "Yuvraj, get up in the morning and say" it out loud —Everyday in every way I am getting better and better !!" You will !!"
Bollywood actress Dia Mirza posted, "Very upset to hear about Yuvraj! Let's pray for his recovery. I know he's a fighter and he'll win this match."
Bollywood beauty Ameesha Patel said, "Praying for my friend Yuvraj. He has to get well. Everyone pls pray for him .. He must fight this awful illness." The actress was once linked with Yuvraj Singh.
Business tycoon Vijay Mallya, who's close friend of Yuvraj, posted on Twitter, "I am devastated 2 hear that my friend Yuvraj Singh has cancer. I pray 2 Balaji that he recovers n is back in action."
From the world of politics, J&K Chief Minister Omar Addullah posted, "Here's wishing Yuvraj Singh a speedy & complete recovery. On a good day there are few cricketers more exciting than him."
BJP leader and Gujarat CM Gujarat CM Narendra Modi too, said, "Sad to hear about ill-health of Yuvraj Singh. He is a fighter and am sure he'll come out of it very soon and play again for India."