A serial bombing rocked the city of Andhra Pradesh, Hyderabad killing atleast 10 people and more than 40 leaving behind wound, as per today horrible reports.
Five blasts occurred in Hyderabad, out of that first one occurred at Dilsukh Nagar area of the city near a bus stop at around 7 pm.
The second occurred at the Konkad Benketgiri theatre and third one was Venkatadri Movie Theater. Both theaters have located at near Dilsukh Nagar and the blast timing was also simultaneous.
The cause of the Serial blast has unknown as police are trying to confirm casualties, reports said.
The injured people have been rushed to the nearby hospital for medical treatment immediately.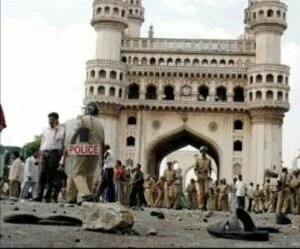 Soon after the blast, Ambulance and Police forces have rushed to the site. Investigations are started as after an emergency meeting has been called by Chief Minister.
The area of explosions said to be very crowded, located in then old Hyderabad.
It has been said that following Hyderabad Serial Blast, security of national capital has been put under danger and meanwhile high alerts have been called by the government.