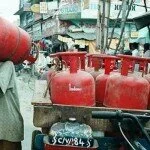 According to latest news, the congress party today announced that it would increase the cap on subsidized LPG cylinders from 6 to 9 in Congress-lead states and added that it would urge other states to follow same steps.
Meanwhile, Delhi Chief Minister Sheila Dikshit was the first to announce the cap on the LPG cylinders from 6 to 9 for lower families. The CM said that the state government would bear the cost of three cylinders of three cylinders.
Further, the Congress leader Janardhan Dwivedi announced the official statement in media.
In addition, Oil Ministry official told media that the excise duty on diesel price may be removed soon.
The UPA government in centre is in danger after the ally Trinamool Congress has announced to withdraw its support from the government yesterday.
The chief of the Trinamool Congress and West Bengal Chief Minister Mamata Banerjee is demanding rollback on FDI in multi-brand retail and subsidizes on LPG cylinders.
The opposition party, BJP, has announced nationwide bandh on September 20.