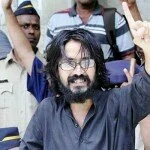 According to fresh news, the cartoonist Aseem Trivedi was released from the Arthur Road jail on Wednesday afternoon.
Talking to media after Aseem came out of the jail, he said that he is very happy with the support he received from all the people.
Aseem Trivedi said, "Although I'm free, the battle will continue. Whenever there is an infringement of legal rights, our fight will continue."
Meanwhile, the Bombay High Court had granted bail to the cartoonist Aseem Trivedi on Tuesday on a bond of Rs 5000.
Earlier, he was arrested by the Mumbai police last Saturday and sent to police custody for one week.
The city police charged Aseem with sedition of drawing cartoons insulting the Indian emblem, also the Constitution, then time when social activist Anna Hazare's anti-corruption protest in Mumbai in December 2011.
Aseem was produced in the court on Monday and was granted judicial custody till September 24.