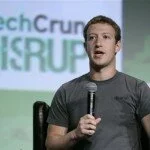 The world No 1 social networking site, Facebook's CEO Mark Zuckerberg has much disappointed by Facebook IPO stock performance, losing half its value of $19.43 since the beginning in May when IPO shares value was of $38.
This time, Zuckerberg has lost more than $9 billion, ever record never seen before, really a shocking fact, but he hopes to have more opportunities to overcome from this hurdles and strong his company's legacy over its falling stock price, making "double down" on Facebook's future.
First time, giving interviewed before a standing-room-only audience at a tech conference in San Francisco, 28 years old Facebook IPO leader said, "The performance of the stock has obviously been disappointing. We care about our shareholders," adding not to underestimates his company by this down falls as "it gives us the latitude to go out and make some big bets."
Ensuring to keep going ahead with best stuff and with better things to fulfill investors' expectations, billionaire appealed to believe his company, never leave it as its connected with world, which is a lot.
Facebook is the world's social networking site, millions of people connected with it. Also, the company is also seeking a debut of mission to connect audience on mobile devices, enabling them to make calls on it.
Moreover, Facebook will seem to be more open and connected place for world which will be emphasized by Zuckerberg to raise the performance of Facebook stock, however this work is carry on, expected to be complete within three to four years.