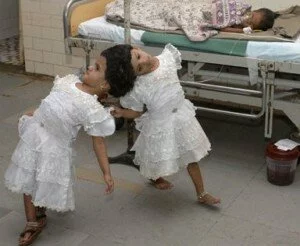 The 9 years old conjoined twins, Vani and Veena wants to stay in the hospital and also have desire to go to school after their operation will complete.
But on the basis of their age factor, it is required for them of having psychological development that they will get only when they interact with outsiders.
However the doctors and hospital authorities of Niloufer Hospital, Hyderabad where both are admitted and their treatment are in processing, advised Veena and Vani's parents to bring them home for their social development.
But Parents are refusing to do same as per authorities. According to them they can not bear the cost of taking care of these twins.
The fact that made shock is that the father of twins N. Murali said, "I have signed the consent form for the operation, whatever the consequence." He is requesting the govt. for employment instead of the meditations of the twins.
Twins faces uncertain future but they have full support from hospital staff that is ready to take care of them in any situation with financial help as well as Educational. The twins can not go to school because of their conjointment, so the hospital staff provides them education in the hospital personally and privately.
Although Veena and Vani has not interact with their family from two years, but they calls the hospital is of their home and does not want to leave it.
The hospital staff is ready to take all the responsibility regarding their operations along with development, but during such time financial hurdles would not be a factor that stop this process so that the matter is essential to have under the government.
On this the hospital in-charge superintendent Dr K. Ramesh Reddy said, "We need a written assurance from the government for financial help. A government job or regular financial help to meet their medical needs should come from the government."
There may be chances of shifting them to Women & Child Welfare Department by the govt. to get education and other facilities.