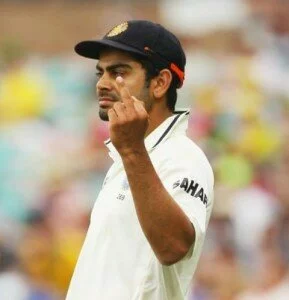 As per the latest cricket updates, the fine middle order batsman from the Indian cricket team, Virat Kohli has been fined 50 percent of the match fees for showing middle finger to the crowd while fielding against Australia in the second test match at the Sydney Cricket Ground.
Reports have said that International Cricket Council (ICC) Match Referee Ranjan Madugalle had issued a letter to Virat Kohli before the start of third day's play and put a level two charge on the cricketer for the obscene gesture to the people sitting in the stadium.
On the other hand, the Indian team manager Shivlal Yadav has told media that Virat Kohli to the hearing where the batsman pleaded guilty.
Talking to media, Indian spokesman G.S. Walia said, "This morning we received a notice from the match referee that level two charges have been framed at Virat Kohli, and the matter has been sorted."
Virat Kohli justified his offensive sign by tweeting that the section of the crowd said the "worst things" about his family, the time he was fielding on the boundary. Meanwhile, it was really a tough day for Indian players as Australia scored huge 366 runs.
Moreover, Indian cricketer Virat Kohli found a supporter in England batsman Kevin Pietersenfor his behaviour.
"ha ha ha ha ha!!! Welcome to Australia buddy!!," Pietersen wrote.
The England batsman went on to add that Australian crowds don't even spare their own players and start abusing them if they are struggling on the field.