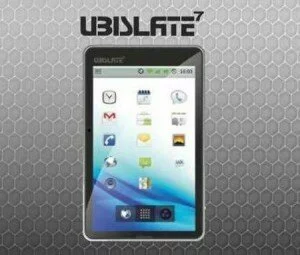 DataWind, London-based maker of the UbiSlate 7 tablet, launched its two new second generation 7-inch low-cost tablets – the Ubislate 7+ and Ubislate 7C in New Delhi on Thursday.
Featured with a faster (800 MHz) processor, better long life battery, 256MB RAM, and an 800×480 pixel capacitive multi-touch display in the 7C model, both ultra-low-cost tablets come with similar specifications. Difference is only in data storage memory- the Ubislate 7C comes with 4GB of internal flash memory compared to 2GB in the Ubislate 7+.
In addition, microUSB slots for expandable memory along with an USB port with an option of 3G USB modems is also stalled in these both DataWind tablets that powered by Android 2.3 (Gingerbread). The upgraded version of Android Ice Cream Sandwich is due on the product by July.
"This is not a launch, it's a revolution," DataWind CEO Suneet Singh Tuli said while launching the Ubislate tablets.
Data Wind, the company that made headlines for creator with the Aakash tablet, the equivalent UbiSlate models, is in the bidding queue for a re-tendering process of future Aakash tablet, beyond the first 100,000 units.
Following previous price strategy, the company has made available 7+ at Rs.. 2,999 and the 7C will cost Rs 3,999. Interested user can make advance booking on the Datawind website that will continue for the next few months before retail availability.
By just paying Rs. 99 a month, offering an unlimited internet plan via tie up with Aircel, on 2G/GPRS for the Ubislate tablets, users can easily access Internet service on its already installed DataWind UbiSurfer browser that uses compression to optimally use GPRS.