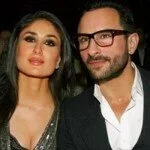 Latest Bollywood buzz reveals, the gorgeous actress Kareena Kapoor denied converting to Islam and now the couple will might now for traditional 'nikaah'.
But, there are reports that Saif-Kareena might go for court marriage now.
Some news have said that actor Saif Ali Khan visited to the Bandra marriage registrar's office on September 12 and he had submitted all the required documentation and other papers needed for an application for marriage.