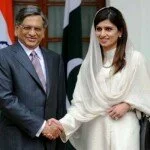 The much-awaited visa agreement between India and Pakistan could be signed Saturday, Indian sources said here Friday.
The visa agreement could be a game changer for people-to-people contact between the two neighbours as visa rules for specified categories could be eased by both sides.
"The agreement is likely to be signed tomorrow (Saturday)," an Indian external affairs ministry source said here.