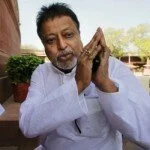 According to latest reports that Trinamool Congress party had formally announced to withdraw its support with the UPA government as all the minister submitted their resignations to the Prime Minister of India, Manmohan Singh.
Meanwhile, all the six minister of Mamata Banerjee headed TMC led by Mukul roy reached 7RCR to meet the Prime Ministe and gave their resignation to the Prime Minister.
TMC leader Mukul Roy was cabinet minister in Manmohan government, while Saugata Ray, Sisir Adhikari, Mohan Jatua, Sultan Ahmed and Sudip Bandopadhyay are ministers of state.