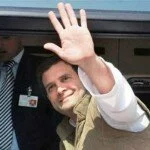 Congress general secretary Rahul Gandhi is likely to visit Kokrajhar, Chirang and Dhubri, the three violence-hit districts of Assam, Tuesday.
A senior leader of the Assam Pradesh Congress Committee (APCC) confirmed this Saturday and added that Congress leader Digvijay Singh is likely to accompany Rahul Gandhi on his visit.
Violence between Bodos and Bengali speaking Muslim settlers in the districts have so far killed over 90 people and displaced over four lakh people.