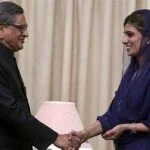 India and Pakistan Saturday signed an agreement that will ease the visa restrictions on people from both countries.
The agreement was signed between Interior Minister Rehman Malik and Indian External Affairs Minister S.M. Krishna, who is on a three-day visit to Pakistan.
"This is the sign of friendship," Malik said after the signing ceremony.