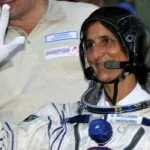 The Indian-born American NASA astronaut Sunita Williams and her two other colleagues has finally returned to Earth on Monday after spending four months at the International Space Station [ISS].
While handing over the commend, Sunita Williams said, "We have left the ship in good shape and am honoured to handed over to Kevin as we are going soon home and the ship is again in good hands."
The three NASA Astronauts who returned from ISS are Sunita Williams, 47-years-old, along with astronauts Yuri Malenchenko and Aki Hoshide. They landed safely in the central Kazakhstan town of Arkalyk at 7.26am Indian time.
The three were on board a Russian Soyuz capsule.
In the meantime, three more astronauts are there on board the International Space Station and they will return to the Earth in 2013.
Sunita Williams had spent 322 days in space during her two-duration missions to space.