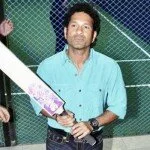 The latest cricket news state, the Cricket Club of India [CCI] is set to honour master blaster Sachin Tendulkar as they are celebrating the 75th anniversary of Brabourne Stadium in Mumbai on Thursday.
A press release said that Cricket board president N Srinivasan will be the chief guest and the CCI will honour the "First Citizen of the World of Cricket" award.
It is said that member form the touring team England will also present in the event such as England captain Alastair Cook, team director Andy Flower and batting coach Graham Gooch.
Sachin Tendulkar has deep connection with this stadium as it changed the thinking of a 14-years-old boy, when Sachin first played local cricket in the late 1980s.
CCI is an important member of BCCI but it does not take part in the Ranji Trophy national tournaments.
The Brabourne Stadium was regularly used for Tests before all the international matches shifted to Wankhede Stadium in the mid-1970s.
However, when Wankhede Stadium was undergoing renovation before the 2011 World Cup all the matches were once again shifted to Brabourne Stadium, and India played against Sri Lanka in December 2009.