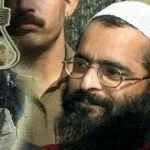 As the Pakistani Lashkar-e-Toiba terrorist of Mumbai 26/11 attacks,  Ajmal Kasab had gone, but still moving controversial rows and one is that the rope by which he hanged was the same which weaved for  2001 Parliament attack death row convict Afzal Guru.
However, the rope was  made by skilled prisoners of Bihar's Buxar central jail, experts in weaving well structured ropes for execution  and for that they has not any  official demand for a specific rope to hang Lashkar-e-Toiba terrorist Kasab, as per media information.
Kasab, the lone captured of Mumbai attacks was hanged till death at the Yerwada Central Prison in Pune on Wednesday, had no wish, just last words "Forgive me Allah!", being found guilt of his role in attacks.
But after five years back , the unused Manila rope costing Rs. 675 which was made for execution of Afzal Guru, was used to hang Kasab, source said.
Delhi Court was awarded  the death sentence to the 2001 Parliament attack convicted, Afzal Guru on December 18, 2002, but  his punishment deferred due to continue row over his  mercy appeal which was rejected by Supreme Court.