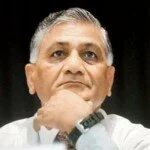 One of the most controversial Chief of Indian Army, Gen V K Singh will now face another legal battle of petition because on bases of petition filed under a criminal defamation case by retired Lt Gen Tejinder Singh, the Delhi court has today summoned V K Singh, of being accused in it.
Along with Mr. Singh, another four top profile Army officers who are servicing has also issued summons to be presented before it on July 20.
Delivering order against five as accused in the present matter, Metropolitan Magistrate Jay Thareja said in a sentence, "In the light of aforesaid discussion and the discussion in the order dated May 18, all the respondents are summoned as an accused in the present matter."
Further clarifying the act of summon is not on basis of charges to alleged Tejinder Singh in a criminal conspiracy, source reported , the court said, "Upon appreciating the entire evidence and material produced before this court, the allegation regarding hatching of a criminal conspiracy by respondents appears to be absurd and without any foundation."
The complainant Tejinder Singh alleged that it was Gen who made him accused of offering a bribe of Rs 14 crore to him for clearing a deal for 600 trucks, releasing false issues against him in the media on March 5.
Earlier, according to reports, the court had ordered Defence ministry to presented press release report made by former chief on the March 5 to probing whether accused have any role in it or not.
However as soon as possible within one week while trial of case in court will set, Delhi court asked Tejinder to file a process fee along with spare copies of related documents.
All the five being accused of misleading their position and authority are accused to offence under section 499 with section 35 of the IPC. Except former chief, the alleging officers who summoned are- Lt. Gen. S.K. Singh Army Vice Chief, DGMI Lt. Gen. B.S. Thakur, Additional Director General Public Information Major Gen. S.L. Narsimhan and Lt. Col. Hitten Sawhney.