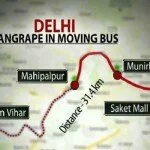 The main three accused in the Delhi gang raping of a 23-years-old girl in a moving bus on Sunday night were on Wednesday produced before the Delhi court and the court ordered them to 4-days police custody.
Meanwhile, the third accused was sent to 14-days judicial custody.
Vinay Sherma, gym instructor and Pawan Gupta, a fruit seller have been sent for custodial interrogation and Mukesh, the driver of the bus when the crime was being committed, has been sent to Tihar Jail in judicial custody after he agreed to undergo test identification parade (TIP).
Ram Singh, brother of Mukesh, was sent to five day police custody after he refused to undergo TIP.
After being produced before Metropolitan Magistrate (MM) Namrita Aggarwal, all the three accused were sent to Metropolitan Magistrate Sandeep Garg for following the procedure for conducting the TIP.
It is said in news that when the judge asked whether they would volunteer to undergo TIP and if not why, Vinay said, "he had beaten up the boy but did nothing with the girl" and went on to say "mujhe faansi de do (hang me)", on the other hand Pawan Gupta said in the court, "I do not want to undergo TIP as I have committed a heinous act".
The magistrate said, "Accused Mukesh has submitted that he wanted to undergo TIP. Police be directed to conduct his TIP on December 20 at 3pm Central Jail, Tihar."
Further, the police said in the court, "Both the victim, a paramedical student, and her male friend, who had boarded the chartered bus with tinted glass windows from Munirka in south Delhi to Palam around 9:45 pm on Sunday night, were assaulted with an iron rod by the men after the two resisted before they were dumped on the road side near Mahipalpur flyover"